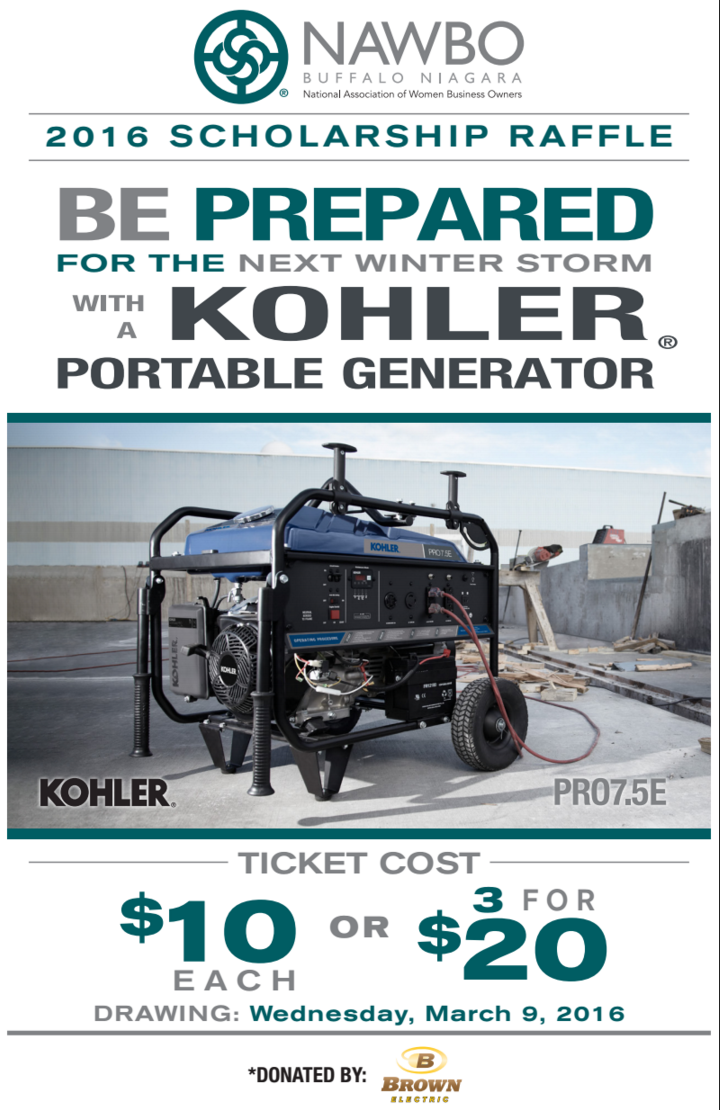 We are preparing for Each One Reach One, March 9, WNY largest event supporting women business owners. This year we fundraising for our scholarship fund at Each One Reach One. The NAWBO Buffalo Niagara scholarships are available to members who wish to further their careers with education, training, or courses pertaining to their businesses.=
We thank everyone who attends our fundraising event and contributes to the scholarship fund!
Help by Purchasing Tickets
This year's scholarship fundraising is being given a huge boost by Brown Electric and its donation of a home generator. Mother Nature has gone easy on WNY so far, but you never know when the next storm may be around the corner.
Be on the lookout for tickets to purchase and share with colleagues, friends and family! Tickets are one for $10 or three for $20 and are available now. Visit the Each One Reach One table at our February dinner or for quicker access, contact Laura Zimberg by text at 716-435-0020. The winner will be drawn on March 9th and need not be present to win. Support scholarships and buy your tickets today!
Donate Baskets
Please consider supporting NAWBO's scholarship efforts by donating a basket to be raffled off at Each One Reach One. Suzanne Novelli is collecting them now, and you don't even have to put them together – she's willing to do it for you!
Please reach out to Suzanne with your donation this week at 716.817.7109 orsuzanne_m_novelli@glic.com. She will arrange a pick-up or drop-off that's convenient for you. And the scholarship fund, which benefits all NAWBO members, will swell because of your generosity!
And who knows. . . maybe one of these days, it'll be you who receives a scholarship!