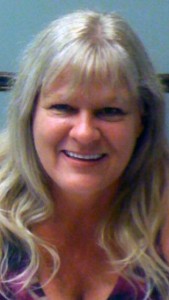 Congratulations, Sue Ellen Elvers, awarded Women in Leadership, April 2014.
Sue Ellen, Owner Ingersoll Painting & Construction comes from a large family and became pregnant when she was in high school. Instead of hiding, she took her baby to home economics classes in the area so students could see that having an infant at a young age is difficult.
She worked her way through school and then worked for a large company. Sue Ellen was diagnosed with cancer and kept working throughout her chemotherapy and radiation; when the time for promotion came she was turned down because the cancer made her "unreliable." She beat cancer and left her job when she was passed over for a promotion.
The day after she left her job, she answered an advertisement to work at Ingersoll Construction & Painting. She worked there for 14 years as the business manager handling all aspects of day-to-day operations. She had to put up with clients not believing a woman could answer their questions about construction, and she won them over every time. This past year, the owner decided he wanted to retire, so Sue Ellen gathered her resources and purchased the company.
Ingersoll Construction & Painting was founded in 1955 and currently has nine employees. Sue Ellen is proud of the company and the quality of work they provide customers.  She is equally proud of her employees and treats them as she herself would like to be treated: the company provides employees with healthcare coverage, IRAs, and continuing training and teambuilding. As a result the company has very little in the way of employee turnover.
Sue Ellen volunteers with the Buffalo Central Terminal Restoration Corporation and the Dream Factory, an organization which grants the wishes of critically ill children.