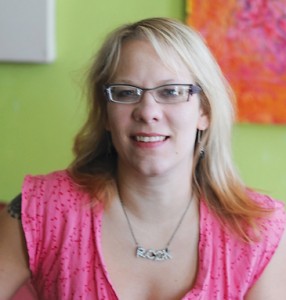 Congratulations, Cynnie Gaasch, Executive Director, Young Audiences of Western New York, who is awarded Women in Leadership, December, 2014.
Cynnie Gaasch has been the executive director of Young Audiences WNY since 2009; the organization serves the eight counties of Western New York. A graduate of Hampshire College in Amherst, MA and a recipient of an MFA from American University in Washington, DC. Cynnie is an active visual artist, and has been a teaching artist, professor, fundraiser, curator, and art critic.  She was the arts editor for Artvoice and then contributing critic for the Buffalo News. In April 2013, Ms. Gaasch was elected chair of the Young Audiences National's Executive Directors Council, a network of 30 affiliates across the country. She was a recipient of Buffalo Business First's Forty Under 40 Award in 2008.  Under her leadership, Young Audiences WNY offers various programs for Buffalo's children and youth, including:
The "Most at Risk" program is provided in partnership with the Erie County departments of Mental Health and Youth Services. It serves young people who have come in to contact with the juvenile justice system or are struggling with home lives.  Buffalo school students who live in poverty and are left on their own after school hours are more likely to participate in risky behavior. At-risk teenagers are being supported through an after school program provided by Young Audiences Western New York where they learn tools to cope, and build a more positive future. .
Keep It Moving!  An after school residency designed to serve the needs of children living in or surrounded by poverty in the City of Buffalo, who are most at risk of obesity. During this residency with world class dancers in a wide range of styles, students quickly learn the relationship between endurance ability and their desire to dance.  Working in a journal during each session, students notate learning around healthy food and physical fitness choices. They also experience how their physical form affects their mobility and precision.  The health benefits of a cardio workout were consistently emphasized.  As the ages of the artists were broad in their expanse, they provided ideal role models for demonstrating the success of a healthy lifestyle in the field of dance.
Grant Street Global Voices, which started in September 2012 is the result of a National Endowment for the Arts grant of $75,000. Young Audiences of Western New York teaching artists and Buffalo State art education students worked with the city's schoolchildren to create designs for a mural. The final result is a collection of historical images of the West Side juxtaposed with portraits of current residents, culminating in a 32-by-80 foot mural painted by Augustina Droze. Buffalo State was a partner in the project along with the City of Buffalo and Buffalo Public Schools. Young Audiences continues the partnership and commitment to the West Side with Buffalo State College and its Community Academic Center.
Photo: ©Nancy J. Parisi