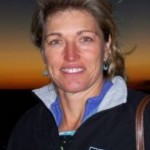 Congratulations, Patty Jordan-Smith awarded Women in Leadership, July 2014. Patty Jordan-Smith is the Program Director of The First Tee Western New York.
After a fifteen-year career touring in the LPGA (Ladies Professional Golf Association) – which included winning the 1988 Ocean State Open in Rhode Island and receipt from the LPGA in 2000 with the Samaritan Award, in recognition of her charitable efforts on behalf of others – Patty Jordan-Smith had planned on working at the Golf Club in Yankee Trace in Ohio.
Instead, this native Western New Yorker returned to the area to help run The First Tee of Western New York.  The program serves children ages 5 to 18 by providing after-school and summer programming at a variety of locations and programs in a number of schools throughout Western New York.  Participants are encouraged to explore and discover their own unique skills and talents, and apply class materials to home, school, and work. Respect is the cornerstone of the curriculum.
Jordan-Smith says. "I enjoy working with people, helping them grow in confidence and skill in one area, then watching them transfer that to life." She has had an eclectic mix of experiences, a reflection of her life pursuit of continuous learning and giving value to others through volunteerism. As a professional on the LPGA Tour she was fortunate enough to be exposed to elite performers and professionals throughout the golf arena. Jordan-Smith continues, "A 'certified' extrovert, I believe that healthy interaction with others is dependent upon respect and listening skills, and that effective leadership is a heart issue reflecting the true heart of one whose purpose is to serve or be served."
Patty has volunteered for the past eight years for the Lounsbury Adaptive ski program at Holiday Valley, working with children and adults who have various levels of physical and development ability; served on the board of the Cystic Fibrosis Foundation; currently serves on the board of Life Athletes; and is active in the Wesleyan Church of Hamburg.
She says, "Through my responsibilities as director of programming and instruction of The First Tee of Western New York I have learned many of the challenges faced by chapters with no golf facility, a northern climate, and life in a less than great economy. Innovation thrives in adversity and I am grateful for the tremendous experience."
Patty Jordan-Smith embodies the The First Tee's Nine Core Values: honesty, integrity, confidence, sportsmanship, respect, responsibility, [good] judgment, courtesy and perseverance.