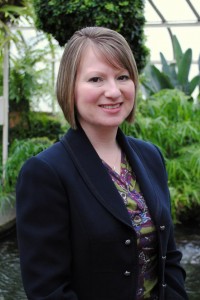 Congratulations, Amy Jo Lauber, Owner, Lauber Financial Planning, who is awarded Women in Leadership, November, 2014.
Amy Jo's business was inspired by a woman named Sheryl Garrett, owner of The Garrett Planning Network. She heard Sheryl speak at a financial planning conference in the early 2000s about the "average" American's need for financial (and not necessarily investment) advice provided on a fee basis.
In the spring of 2010, it was announced that the firm Amy Jo worked for would be closing and that she'd be out of work. After discussing the thought of fee-only financial planning and the financial strains of a start-up with her husband (and being duly inspired by a particular gospel and homily at church), she decided to start Lauber Financial Planning.
The biggest challenge she faced in her business was when she started out; she was so eager for every piece of business that she was not charging enough to sustain the business. After receiving some excellent coaching (business, marketing and sales) Amy Jo raised her prices and never looked back.
Amy Jo is most proud that she helps people be at peace with money, to have contentment. Amy Jo likes to think she can be an example to other potential business owners that, while it is really hard to get going and to keep going, it's completely worth it.
Her business serves the community in several ways. Every client contract fee is tithed (10%) to non-profits; clients decide where half of that goes and she decide where the other half goes. She offers her budgeting support group without compensation to her personally (a speaker or food/beverage fee is requested, however) and Amy Jo speaks to various organizations about the weird and wonderful world of personal finance, typically free of charge.