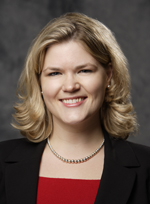 Congratulations, Anne E. Joynt, Junior Partner at Lipsitz & Ponterio, LLC, who is awarded Women in Leadership, October 2014.
Anne E. Joynt is a junior partner at Lipsitz & Ponterio, LLC who joined the firm in 2005; she represents people who have suffered injuries as a result of exposure to asbestos, as well as those affected by childhood lead poisoning, motor vehicle accidents, construction accidents, medical malpractice, and defective products.
Anne says "I wanted to join this business because I was interested in litigation, and I liked the smaller firm atmosphere. It really does feel like a family, and I am grateful for the opportunity to learn from lawyers who are excellent and respected in their field, and who have taken the initiative to serve as mentors to me…" She is proud to have the opportunity to represent people who have been injured through no fault of their own. and derives a lot of satisfaction out of knowing that her contact with her clients makes a positive difference in their lives.
Anne graduated from the State University Of New York at Buffalo, School of Law in 2005. She has been a law student mentor with the University at Buffalo Law School Mentoring Program since 2008. She serves on the board of directors for Law Intern Program of Buffalo. Anne is a member of Women's Bar Association of the State of New York, Western New York Chapter and serves as a state director.
She is a member of the steering committee for the Women's TAP (Taking Action Politically) Fund, and has served on the Young Professionals Committee, Buffalo and Erie County Public Library. Anne has been an ambassador for Planned Parenthood of Western New York since 2011 and serves as co-chair on the State University of New York at Geneseo regional board of directors.