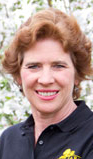 Congratulations, Melinda Vizcarra, awarded Women in Leadership, September 2014. She is Co-Owner of Becker Farms and Vizcarra Vineyards.
September 2014 Woman in Leadership Melinda Vizcarra Co-Owner of Becker Farms and Vizcarra Vineyards in Gasport Becker Farms and Vizcarra Vineyards is a family owned 340 acre working fruit and vegetable farm that sells most of their products directly to the public. Starting out in 1894 as a livestock and produce farm providing for just family and friends, Julius and Augusta Becker's farm has progressed with each new generation, making Becker Farms into the great success it is today.
Julius and Augusta's great-granddaughter Melinda Vizcarra, her husband, Oscar, and their children Amanda, Andres, and Oscar Jr. now run Becker Farms, expanding both its agriculture and business.
Student tours have been a basis for much of the tourism and business expansion that has sparked on the farm. Many of us have fond memories of childhood visits and elementary school field trips to Becker Farms, touring the farm and meeting the animals. Now, over 15,000 students tour the farm each year!
In addition to the farm tours, Becker Farms has expanded its business to "U-Pick" selections, where people can come and handpick their own fruits and vegetables, and in 2004 they opened the Vizcarra Vineyards, which offers a variety of specialty fruit wines including apple-cranberry, plum, strawberry, and more! The Vizcarra Vineyards is also open for hosting private events, its bucolic setting making a lovely venue for weddings, showers, or other celebrations.
The most recent newcomer to the Becker Farms business is the Becker Brewing Company, a microbrewery offering four staple beers and a number of seasonal brews, including Pumpkin Ale, which is available in the fall. Becker Farms, with each generation, has grown in agriculture and business to make the farm a prominent site for culinary and agricultural tourism and appreciation in Western New York.