Event details
Friday | October 11, 2019 to Sunday | October 13, 2019
Beaver Hollow Resort & Conference Center 1083 Pit Road Java Center, NY 14082
Building High Performance Sales & Leadership Teams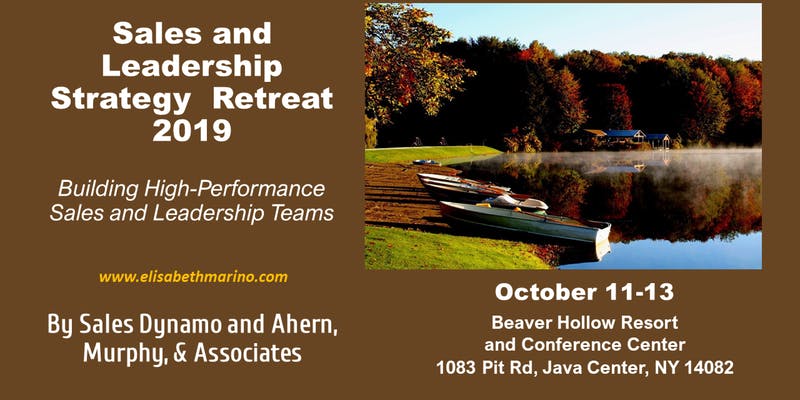 Content driven by insight and experience.  Facilitators known for their history of excellence.  A conference engineered to conquer the challenges of today, and anticipate the challenges of tomorrow.
Let's build a plan for 2020 and beyond…
This two-and-a-half-day program is an executive-level retreat designed by experts to grow your business through advanced leadership and sales strategies.  Experience peer-to-peer interactions, in-depth seminars, and key developmental opportunities in a woodland retreat setting.
Become a Leader Worth Following
Direct more clearly
Achieve more results
Influence effectively
Engage more meaningfully
Innovate more radically
Develop Skills and Blueprints to Help Your Team
Drive Buyer Actions
Improve Deal Outcomes
Replicate Success
Simplify a Complex Sale
Increase Customer Loyalty
Sales Managers will Develop the Skills to:
Optimize performance
Conduct reviews that build on strengths
Motivate teams to work toward excellence
Create meaningful talent development plans
Build strong, sustained sales success
All Attendees Will Learn to:
Lead with confidence
Unify your team to achieve common goals
Create a stronger corporate culture
Manage time and people effectively
presented by Sales Dynamo and Ahern Murphy & Associates
REGISTER: https://www.eventbrite.com/e/sales-and-leadership-strategy-retreat-2019-tickets-63484462737