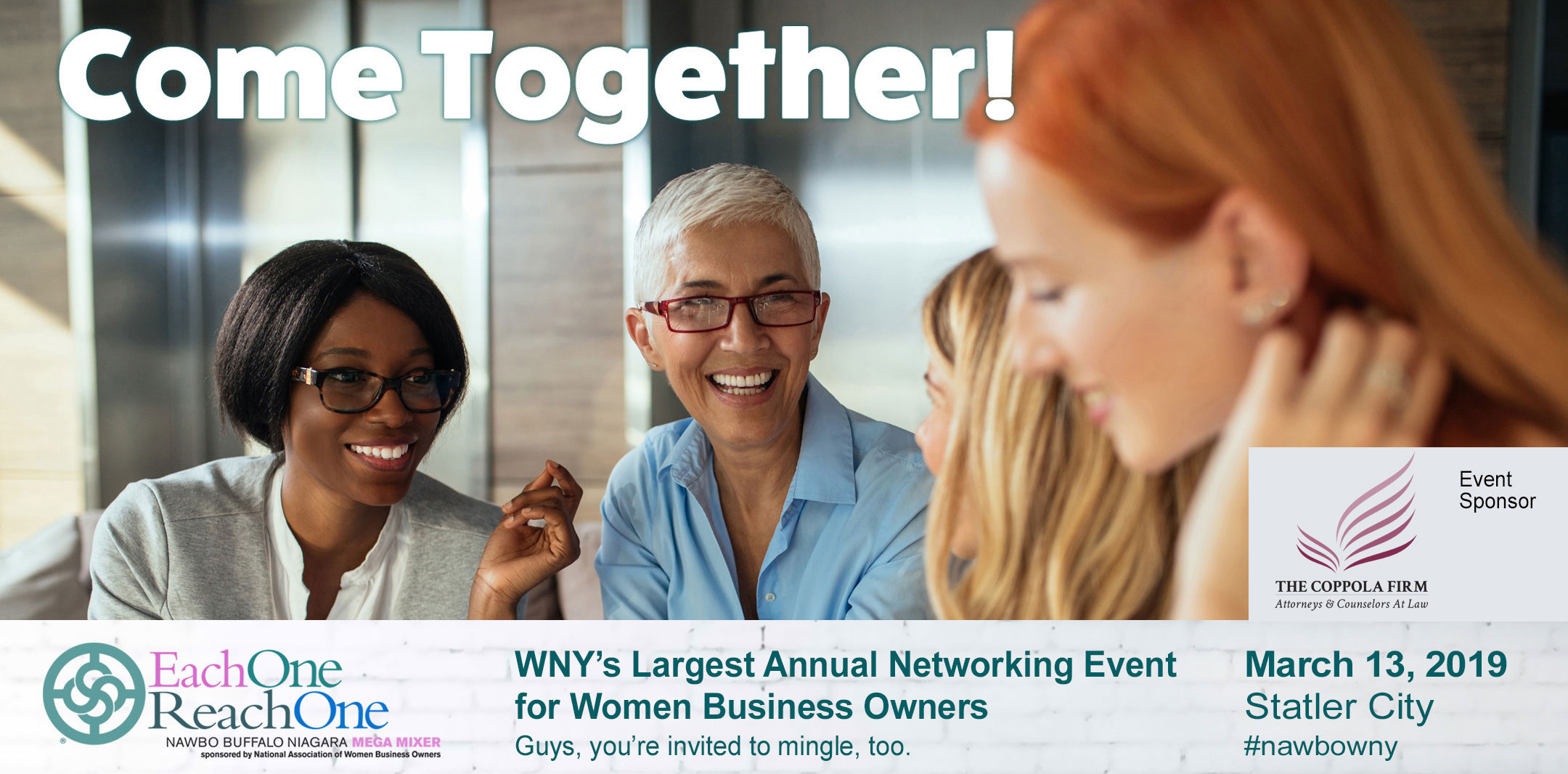 Our Biggest, Greatest Annual Event
Our fabulous, one-of-a-kind event – the Annual Each One Reach One networking mega mixer – presented by NAWBO Buffalo Niagara and our Event Sponsor, Thruway, is a great event for women in business, women business owners, or anyone interested in reaching out to the women's business community.
What is Each One Reach One?
* Mega-mix, mega mingle and mega-meet
* A progressive dinner where attendees change tables after each course; networking with a new group of individuals each time, with a facilitator at each table.
* A place to make new connections and forge new partnerships at the Network Happy Hour with a chance to meet 60+ vendors and our sponsors.
* A chance to partake in our basket auction for NAWBO Buffalo Niagara's Scholarship Program.
2019 Event Information
EORO Schedule of Events:
4pm-5:45pm Network Happy Hour/Vendor area open
6pm-8:30pm Progressive Dinner
8:30pm-9:30pm Claim prizes, last stroll through the vendor area
Parking: We have rented a parking ramp close by and will have two shuttles to bring you to Statler City. Valet Parking will be available for a fee of $10. Everyone is to enter through the front door and a free coat check is available.
Deadline: February 23, 2019 – 6pm All participants and vendors who are registered by Feb 23, 2019 will have their contact information in the program book which will be handed out at EORO.
Sponsors and vendors: please email your logo/ ad to info@nawbowny.org by February 23, 2019.
Where can I contact the organizer with any questions or concerns? Please feel free to contact chair: Laura Zimberg @ 716-435-0020 text or call her or by email: LauraLMT@aol.com.Or call Jeanne Hellert at (716) 238-2461 or by email info@nawbowny.org.
Can I get a vendor table? Up to 40 vendor tables are available with a combination of 6ft and 8ft tables with drape & skirt. Limited electric available.
NAWBO member: $150 includes one ticket
Non member: $200 includes one ticket
Set up Noon, March 13. Consider providing a prize at your vendor table for a business card drawing. Vendor area opens: 4pm – 5:45pm, closed during dinner, re-opens 8:30pm – 9:30pm.
Make up date for extreme weather conditions? Please check FaceBook for any and all updates, especially the day of the event. If it is necessary to cancel this event do to extreme weather conditions our "Make Up Date" or "Snow Date" will be announced.