Full House for National Association of Women Business Owners (NAWBO) Buffalo Niagara Chapter First Fall Event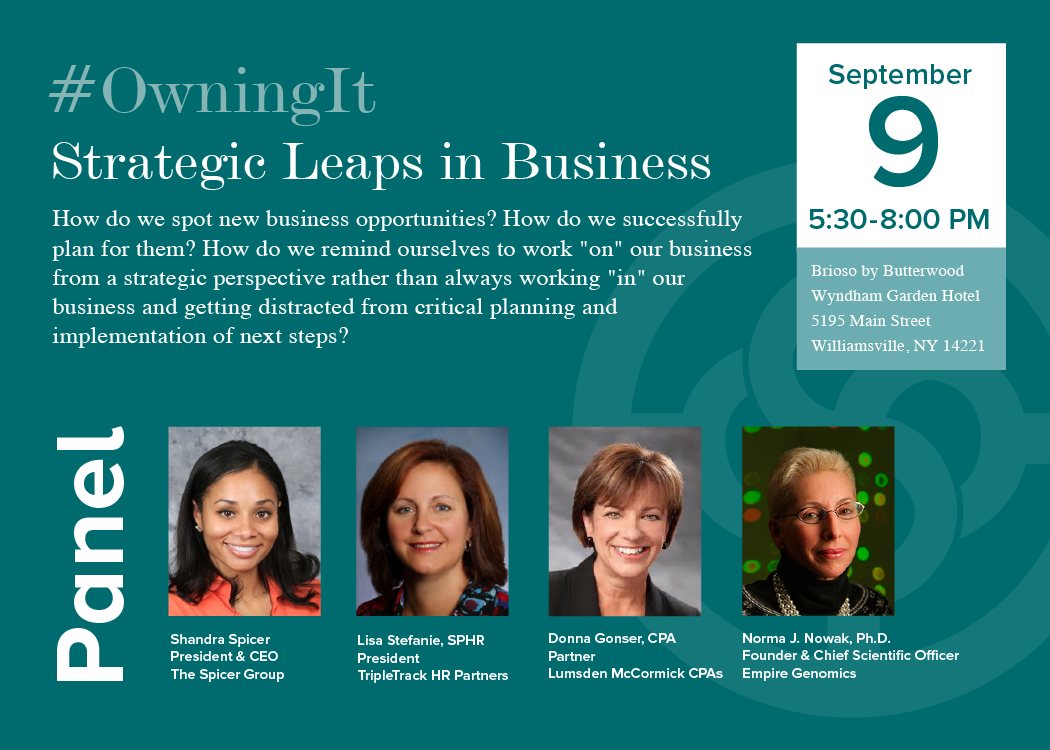 FOR IMMEDIATE RELEASE. September 9, 2015. Buffalo, New York
Today, Wednesday, September 9, at 5:30 pm, when the National Association of Women Business Owners (NAWBO) Buffalo Niagara Chapter holds its first meeting at Wyndham Hotel in Williamsville, NY, there will not be an empty seat. After launching the #OwningIt campaign earlier this summer giving a face to women business owners and the myriad professions and industries they represent, the organization has been met with enthusiasm and excitement. "The fact that we have 80 women business owners attending tonight, and over 60% are women who are participating for the first time is beyond anything we have imagined but it clearly communicates a need," says Sabina Ramsey, president of NAWBO Buffalo Niagara. According to chapter statistics, attendance to NAWBO Buffalo Niagara programs have tripled over the last year. "We are thrilled to see new faces in our organization, and we do not take this new interest in our organization lightly.  We understand our responsibility of providing even better value to our members in terms of networking, education, and business opportunities."
"We are putting extra effort into our programming this year," says Lisa Coppola, president-elect of NAWBO Buffalo Niagara. "For tonight's meeting we have a prestigious panel of women business owners from our community who will share inspiration by explaining what strategic leaps in business they have taken to grow their companies. The panel consists of Shandra Spicer, president and CEO of the Spicer Group, Lisa Stefanie, president of Triple Track HR Services, Donna Gonser, CPA and partner of Lumsden McCormick, and Norma J. Nowak, Ph.D, founder and chief scientific officer of Empire Genomics.
Fast Facts
What: Buffalo-Niagara Chapter, National Association of Women Business Owners
Where: Wyndham Garden Hotel, 5195 Main Street, Williamsville, NY 14221
When: Wednesday, September 9, 2015, 5:30 – 8:00 pm
Sabina Ramsey, President NAWBO (National Association of Women Business Owners) Buffalo Niagara Sabina Ramsey is the elected President of NAWBO Buffalo Niagara year 2015/2016. She is also the Founder and Managing Partner of Insight International, a creative agency she launched in 2008. As a problem solver, leader, and strategic planner, Sabina leads Insight's development of professional digital and traditional marketing programs for corporations, small businesses, nonprofits, and community initiatives. She holds a Master's Degree in Sociology and a Bachelor's Degree in International Social Science from Linneaus University in Southern Sweden and has studied business and social sciences at the University of Ottawa and the IHM Business School. In 2013, she was selected as NAWBO's member of the year, and she recently received Buffalo Niagara Sales & Marketing Executives Elite Award.
Lisa Coppola, President-Elect NAWBO (National Association of Women Business Owners) Buffalo Niagara Lisa A. Coppola, Esq. is an entrepreneur with a background in advertising and marketing as well as a 25+ year career as an attorney partnering with clients in business planning and dispute resolution, human resources counseling, charter school law, and government compliance matters. Lisa is a fellow of the Litigation Counsel of America. She is consistently named an Upstate Super Lawyer and has been recognized by Business First as a Legal Elite, Woman of Influence, and Woman Who Means Business.  In 2015, Lisa received the New York State Bar Association's Empire State Counsel Outstanding Pro Bono Volunteer Award. She also is a partner in Western New York's premier garden design and installation firm, The English Gardener.
The National Association of Women Business Owners (NAWBO) propels women entrepreneurs into economic, social and political spheres of power worldwide by strengthening the wealth-creating capacity of its members and promoting economic development within the entrepreneurial community; creating innovative and effective change in the business culture; building strategic alliances, coalitions, and affiliations; and transforming public policy and influencing opinion makers.
The Buffalo Niagara Chapter of NAWBO has been helping women entrepreneurs thrive since 1994. It is the premier organization for Buffalo-Niagara's diverse range of women-owned businesses, fostering a network of women entrepreneurs, articulating its strong voice on important advocacy issues, and providing high-quality educational programs for a dynamic and diverse group of women business owners and chapter partners. NAWBO Buffalo Niagara is a leading advocate for emerging and established women business owners who aspire to higher levels of opportunity, challenge, and success.
###
For further information, contact Lisa Coppola at presidentelect@nawbowny.org or 716-536-4442.