NAWBO Buffalo-Niagara Board Hosts County Executive Polancarz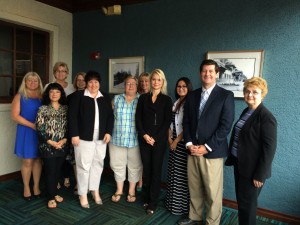 FOR IMMEDIATE RELEASE. Buffalo, New York, June 19, 2015
At this morning's NAWBO Buffalo Niagara (nawbowny.org) annual board retreat, Erie County Executive Mark Polancarz reaffirmed his commitment to women business owners. In his remarks, Mr. Polancarz highlighted the efforts his Administration has undertaken to support women business owners and all Erie County entrepreneurs. He congratulated the local chapter of NAWBO for bringing together women entrepreneurs and business owners across the region.
Joining Mr. Polancarz was Sawrie Becker, the Executive Director of the Erie County Commission on the Status of Women who will receive an honorary membership in NAWBO-WNY this autumn. Said Ms. Becker, "Women are a driving force in the Western New York economy. Like all business owners, we are deeply devoted to the renaissance our region is experiencing and look forward to partnering in the future."
NAWBO and the County Executive's administration anticipate collaborating in early 2016 on Minority and Women Business Owned Certifications.
###
For further information, contact Lisa Coppola at lacoppola@gmail.com or 716‑536-4442